Wow… Joel Osteen is dumber than I thought.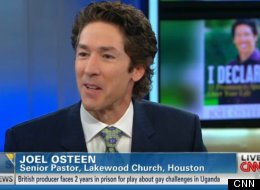 Apparently realizing this answer could be interpreted as a defense of a main LGBT argument — that people do not choose their sexual orientation — Osteen backtracked, saying he preferred to stick to "the issues I understand," the Advocate reports.
hmph… Okay, so Joel Osteen pretty much admits that in the year 2012 he is just too lazy to spend a couple hours reading online, or actually meeting with LGBT to learn that it is not a choice.   He said he has no choice to be straight, but doesn't understand that LGBT do not have a choice.  And when cornered he chickens out and says, "I prefer to stick to the topics I understand.  Sweetheart, it is 2012 — take a day off and find some understanding.  The information is so readily available, the only people who don't understand are those who choose to remain unaware and unformed.  Yes, little Joel, sexual orientation is not a choice, but ignorance is.
It has been over 40 years (June 1969) since the Stonewall riots and the beginning of the gay civil rights movement.
For at least the last two decades there has been increasing visibility of LGBT people, with a whole lot of legal battles for equality and an end to discrimination.  We have become known EVERYwhere in this country:  books have been written, sermons preached, articles published, movies made (and even TV series) featuring us as more than a joke, and legislation pushed through congress at both the state and federal levels.
How can the senior pastor at the largest church in the nation CHOOSE to remain ignorant of a topic that actually does touch the lives of virtually every person attending his church?   Everybody in his church who is not LGBT either knows, works with, lives near or next to, or is likely even related to a gay, lesbian, bisexual, or transgender person.
For Osteen to consider sexual orientation (other than 100% hetero) to be a sin and a choice that can be given up like smoking or drinking is just incredibly stupid.  Especially when he admits he himself did not choose to be straight, how the fuck can he assume someone else would choose to be gay?   He's clearly an idiot of the first degree.
A hundred years ago, such lack of awareness might have been understood, but in 2012 there is NO EXCUSE to be so uninformed.  Shame on Joel Osteen.